Grupo Galileu RH's Consulting and Training Process
Grupo Galileu RH, with specialized professionals, is ready to develop Human Resources (HR) Consulting and Training projects tailored to your specific needs.
The goals of each plan can be laid out in advance by your company or, depending on the need, our professionals can conduct an audit in order to identify the specific needs of your organization.
Within the realm of HR Consulting, we are committed to bettering the performance of your organization as a whole by focusing on the liberating the potential of the human capital within it.
Skill Development and Behavioral Training
Custom Made is the best way to describe Skill Development at Grupo Galileu RH, through a flexible approach, with the end goal of developing and consolidating business skills.
Our training is centered around the development of technical and behavioral skills, with a particular focus on:
Dynamic Trading;
Situational leadership;
Time management;
Conflict management;
High Impact Communication.
HR Training Process – Methodology
Within the scope of Human Resources Training, we will fully support your company during the 5 stages of our process:


Human Resources Training Areas
Grupo Galileu RH has partnered with People & Skills, a training company, resulting in the expansion of our skills development.
Languages (Corporate Training)
Management & Human Resources
Financial Management
Administrative and Secretarial
Marketing & Digital Marketing
Sales

Behavioral and Personal Development
Health and Safety
Logistics
Information Technology
Microcomputing
Golden Age

Speed Courses
Specialized Individual Training
P&S Kids
Official SAP Training
SAP Training Courses
SAP Academy
Organizational Culture and Climate Study for Companies - FAMA
An Organizational Culture and Climate Study allows for the pinpointing employee perceptions regarding the company, such as overall level of satisfaction, identification of company culture as well as aspects that facilitate or prevent necessary change all of which result in being well prepared to anticipate and act to improve the company culture for the better.
FAMA is a tool developed by Grupo Galileu RH which makes up part of the Human Resources Consulting process, with the aim to better understand the organizational climate. Our methodology allows us to carry out an in depth study of your organization, with the possibility of applying up to 10 dimensions, depending on your needs.
During critical times for the economy and companies, FAMA will be a strong pillar in helping make the right management decisions.
FAMA – Organization Behavioural Study Methodology
Conducting an Organization Behavioural Study is a chance to listen employees and value their opinion, resulting in an increase of the overall productivity.
The FAMA process contains the following 5 points:


Are you looking for a Human Resources Consulting firm?
Assessment Center: Internal Skills Guidelines
How to access the key skills of a successful team?
The Assessment Center – Human Assess Tool, a system developed exclusively by Grupo Galileu RH, may be the answer. This tool allows a comprehensive identification of the potential within the human capital of your organization.
By evaluating the most critical work skills and behaviors, you are able to make the right strategic decisions such as in:
Development;
Selection;
Restructuring;
Merging.
HR Skills – Methodology
Grupo Galileu RH provides a wide selection of tools which can be personalized to better suit your specific needs.
Our Assessment Center comprises of 3 specific activities: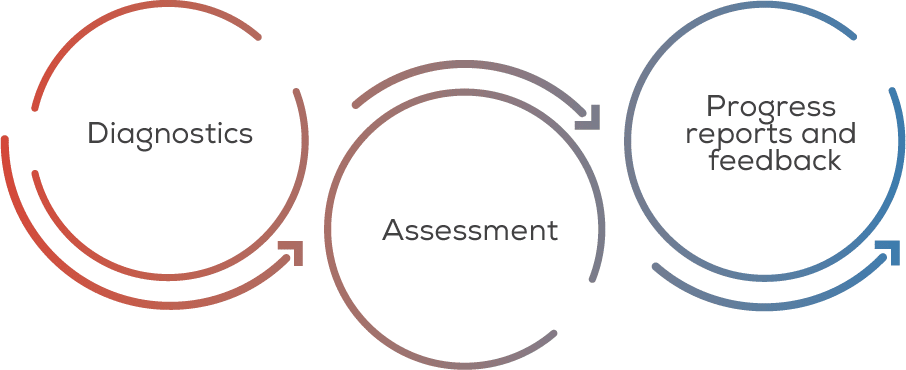 Skills Evaluated
In order to enhance performance within your team, our Human Resources Training is centered around the following areas:
Skills
Behavior
(Examples)
Communication
Interpersonal relationships
Openness to change
Client Orientation
Results Orientation
Conflict management
Gestão de conflitos
Self-esteem
Skills
Technical
(Examples)
Company culture alignment
Leadership
Ability to analyze information
Negotiation
Sales techniques
Organization and activities management
IT proficiency
Outplacement
The use of an Outplacement program acts to support companies as well as professionals with the aim of conducting the offboarding process with respect and dignity.
The Grupo Galileu RH Bridge Outplacement Consulting division, contains many programs with the goal of helping to reduce the negative impact that comes with restructuring, merging or downsizing organizations.
By using our Outplacement solutions, your company's level of Social Responsibility will be enhanced, rendering the career change process more dynamic and empathetic.
Outplacement Methodology
Grupo Galileu RH's career transition support is the best you can offer your professionals.
Our solutions are personalized for individuals, groups, or both, in accordance with your goals and needs, as well as the characteristics of the professionals involved.
From the moment of resignation we will help your former employee find a new professional challenge tailored to their specific background and career goals.
Our program includes the following topics:
Career review
Brainstorming to identify the ideal position (traditional career or self-employment)
What do I can do? What are companies looking for?
Guidance in regards to CV elaboration and business card creation
Advice on maintaining employability
Selection of desired jobs and target companies
Job search action plan
Guidance on the efficient usage of available contacts (networking)
Is your company looking for Human Resources consulting?
Career Mentoring Program
Our career mentoring program aims to support individuals looking to invest in their professional career.
This Human Resources program is the answer for those looking to take on new challenges or those looking to further develop their technical and behavioral skills.
This is a flexible and personalized program to meet the needs of each professional.
How?
During an initial phase an interview is scheduled free of cost and commitment;
An exploratory interview is conducted to introduce and prepare the program
At Grupo Galileu RH, we have highly experienced Human Resources consultants who are skilled in being able to effectively listen and help in finding the perfect professional challenge.